Niner Transit changes campus transportation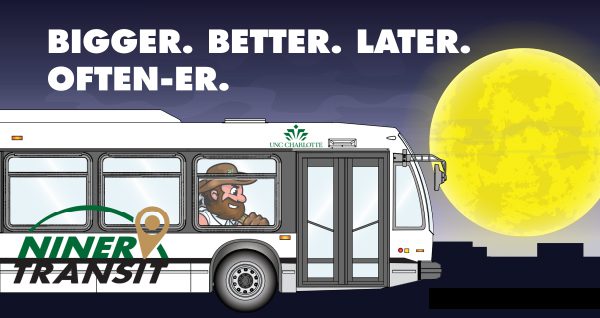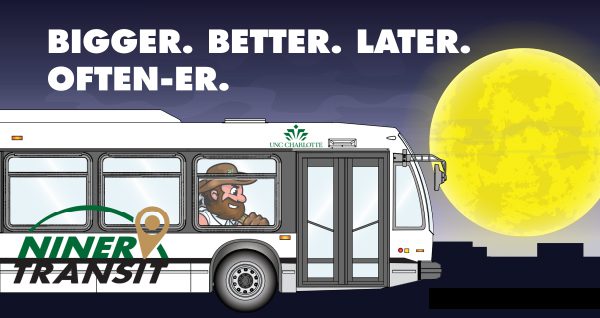 After a thorough RFP and selection process, Academy Bus was chosen to operate UNC Charlotte's campus bus system. Academy is the largest privately owned and operated transportation company in country, serving the East Coast for more than 40 years. Getting around campus is now bigger, better, later and often-er than ever before.
Bigger – Niner Transit buses are 40 feet long and hold a lot more passengers than previous 29 ft. CATS commuter buses.
Better – PaTS has directed Academy to provide continuous service; driver breaks are covered with little-to-no interruption and breakdowns are promptly replaced.
Later – seven day a week service until 2:30 AM!
Often-er – more buses on each route means shorter wait times. Two buses run on Green line, three on Gold line and four on Silver Line.
Important things to know
Niner Transit buses have two doors. The front door is for entering passengers; the back door is for those exiting. Loading and unloading is more efficient and safer this way.
Do not attempt to enter the rear door. Drivers cannot see you there.
Never chase a bus! If a driver passes by your stop it's because the bus is at capacity. Wait for the next bus; it usually only takes a few more minutes.
Class schedule influences ridership demand; buses may fill to capacity especially around 9 a.m., 10:30 a.m., 1 p.m. and 3 p.m.
Buses are not like trains; they are subject to congestion, traffic, and crosswalk stops. Service may slow around 9 a.m., 10:30 a.m., 1 p.m. 3 p.m. and 5 p.m.
The current Niner Transit buses are temporary, assembled from Academy's existing fleet. Brand new Xcelsior buses are being built for UNC Charlotte, with delivery expected late spring.
There is no service on holidays when the University is closed. See website for modified schedules during class breaks.
Download the UNCCNextRide app. You'll see where the buses are and when the next bus is expected at your stop. You can also get arrival estimates by text message. More
Bus Etiquette
During peak ridership times, please slide toward the window so someone can sit on the aisle-side seat without having to ask.
Place backpacks on your lap or on the floor, taking care not create tripping hazards near the aisle.
When capacity reaches standing room, move all the way to the back of the bus so there's room for others to get on. Buses will accommodate two rows of standing passengers.
Simple courtesies and an occasional "excuse me," and "thank you," go a long way to making the ride more pleasant for everyone.
For Niner Transit and specific comments/questions about campus transportation, contact Helena Connors, hconner2@uncc.edu. For immediate questions/concerns, call the PaTS Communication Center, 704-687-0161. Niner Transit information and monitoring is also on Twitter @unccnextride and @unccparking.
Lost and found: Items turned in from buses are sent to the Campus Police department.