Summer Shuttle Service begins May 23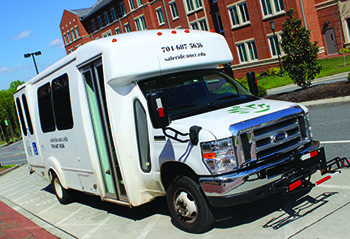 Parking and Transportation Services will provide modified shuttle service during first and second summer sessions. Summer shuttle will be run internally by PaTS, using SafeRide Evening transportation vans.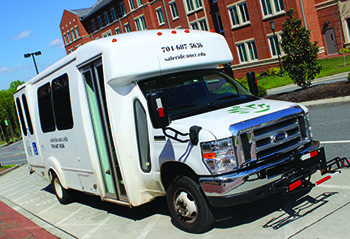 Summer Shuttle service dates and times
Summer I: Monday May 23-Wednesday June 29; 7:00 AM-6:00 PM
Summer II: Tuesday July 5-Friday August 12; 7:00 AM-6:00 PM
Summer shuttle will cover the same route and stops as the Red and Green lines do during Fall and Spring semesters.* (Green Line connects South Village and North Campus to campus core; Red Line goes cross-campus, from Lot 6 at John Kirk and Cameron to East Decks, Student Union and CRI.) Summer Shuttle route and service stops. Shuttle vans will be labeled and show on the UNCCNextRide app and mobile web as Green and Red routes.
After 6:00 PM, SafeRide evening service will take over, returning to the established campus loop.
"This is a pilot program," said Helena Connors, Transportation Manager, "in response to requests from students and the Office of Disability Services."
Doug Lape, PaTS Director, adds that operating a shuttle over the summer, "will help as we gear up for light rail in August of 2017."
Regular campus shuttle service, operated by Charlotte Area Transit, will resume Monday, August 22.
More about Summer Shuttle
* Route service may require temporary detours due to construction.