From Vision to Mission; making campus accessible for everyone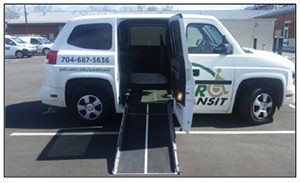 Thirteen years ago, UNC Charlotte did not provide inter-campus transportation. Police and Public Safety filled in with escort assistance, but there were no vehicles equipped to assist people with mobility issues nor resources to provide them.
The first big step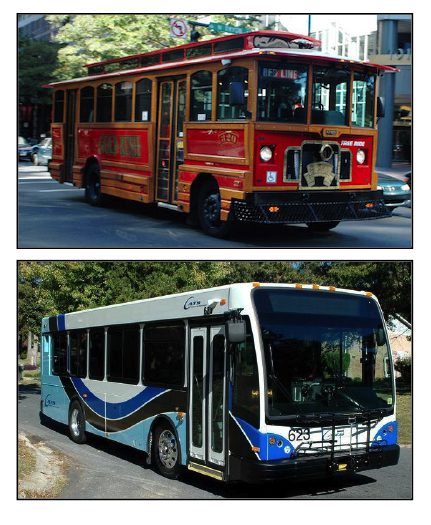 The University entered into a contract with Charlotte Area Transit (CATS) in 2007. CATS added three weekday commuter routes to their schedule, to serve campus from 6:30 a.m. until 10 p.m., Monday – Friday. As part of the CATS fleet, those first buses were ADA accessible, with drivers trained in loading, securing and unloading passengers who use wheelchairs.
Charlotte Area Transit (CATS) added three campus commuter routes (using Gold Rush buses at first) then 29 ft. single entry/exit buses
CATS fleet is ADA accessible, drivers are trained in loading, securing and unloading passengers with physical disabilities
That fulfilled the need for accessible transportation around the perimeter of campus but did nothing for accessibility around the center, where most of the academic and administrative buildings stand. Elizabeth A. Hardin, vice chancellor for business affairs, guided the formation of a Campus Accessibility Advisory Committee and subcommittee; their task was to study and address inner core transportation. Subcommittee members walked the campus to note accessible building entrances, available nearby parking, proximity to shuttle stops, and obstacles to access.
Around that time, the campus police department saw the need to move responsibility for on-call nighttime safety escorts away from officers. The Parking and Transportation Services' director suggested combining ADA transportation and evening safety escort, and per direction from Hardin, by 2009 SafeRide was serving both needs.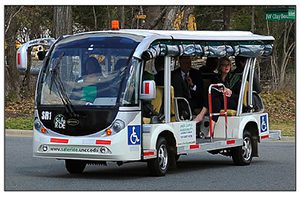 On weekdays, three nine-passenger electric trams with manual ramps and a wheelchair fastening system moved approved students, faculty and staff with mobility impairments from residence halls and parking areas to classroom buildings and offices throughout campus. After 6 p.m., SafeRide changed over to evening safety transportation open to anyone who made a request through a dispatch number. The Disability Services Office handled medical eligibility for those who needed scheduled accessible transportation according to work or classes, and Campus Police dispatch answered the on-demand requests for evening escort transportation.
What was learned
The big lessons from the electric tram years of SafeRide were:
Electric trams were uncomfortable for passengers and drivers alike during cold or wet weather.
Trams were not designed for a campus as hilly as UNC Charlotte. Strained batteries and worn-out brakes were chronic problems.
In early 2013, the electric trams were limited to running just the inner core of campus before 6 p.m., and gasoline-powered 15-passenger vans served 33 pick-up points for evening safety transportation from 6 p.m. until 2 a.m.
On-demand dispatching of evening safety transportation was quickly overwhelmed. The "one-call-at-time" service model was inefficient, creating unacceptable wait times as ride requests increased. Scheduled service with multiple pick-up points was soon adopted to provide predictability and meet growing demand.
A revision – bigger, broader, later, longer bus service

ADA service clientele continued to grow as did demand for more robust campus transportation in general. In 2017, the campus bus system moved from contracted weekday-only service with Charlotte Area Transit to University-branded Niner Transit with a designated fleet of 12 New Flyer buses operated by Academy Bus. Niner Transit buses are fully ADA accessible. New routes were scheduled 6 a.m.-2 a.m. weekdays, adding four hours to evening service. Weekend service was added as well, running from, 9 a.m.- 2 a.m.
Expanded bus services to cover late-night and weekends eliminated SafeRide split service.
Academy Bus awarded the operations contract through a rigorous RFP process.
Service was branded Niner Transit.
ADA transportation was also rebranded and service was extended. Currently, Niner Paratransit uses three Mobility Venture vehicles (MV1). The boxy shape yields spacious room inside, allowing more ambulatory individuals to walk up an electric ramp and fit comfortably in the seats. Wheelchairs take the front passenger seat area with room to turn around and ride up and down the ramps. The electric ramps can extend to accommodate a softer angle or greater weight if needed. Because MV1s are gas powered, the whole campus can be served along with main sections of the inner core. The best features for passengers include:
Weather protection
Greater range
Comfort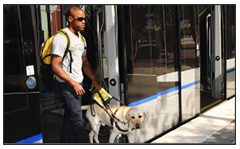 With the opening of Light Rail, Niner Transit and Niner Paratransit opened up new services to connect passengers to the city as well as campus!
The improvements caused ridership to increase, passengers and drivers are shielded against weather conditions, and service hours are extended. The 33 pick-up areas have grown to 65. Pick- up areas are clearly marked and easily located with Niner Paratransit signage.
The Numbers
Ridership
2014
2018
CATS (Rts. 47, 49, 50)
300,766
SafeRide
4,073
Niner Transit (Green, Gold, Silver routes)
1,264, 559
Niner Paratransit
12,637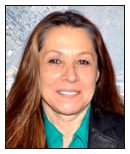 There are many ways to measure the success of this change, but it's the positive impact on riders that counts the most. Here's an example shared by Helena Connors, PaTS associate director: "We assisted a professor who suffered much pain when transferring from her car to an electric tram, causing her to limit trips to campus. After receiving the MV1s, we asked her to meet us in one of the ADA parking lots to see how the transfer from car to MV1 would go. Much to the delight of all present, she was able to move from her car to the vehicle with hardly any discomfort! She was then able to come to campus as many days of the week that she wanted."
Eligibility
Here is how the current program operates and determines eligibility.
The passenger makes a service request with the Office of Disability Services.
Once approved, the Disability Services staff decides between two status options: limited or unlimited. Unlimited means that the individual can use our services until they are no longer a student, or employed as faculty or staff. Limited means that the approver sets an end date as to when the services should no longer be required.
The approvals are then sent to the PaTS transportation office. We ask the passenger to fill out a time schedule every semester and those are set on first-come first-served basis. As the schedules fill up, passengers may have to choose alternate times for pick up or drop off.
While the individual is waiting for approval, temporary service is offered for two weeks. Sometimes that's all someone recovering from a minor injury needs.
If a participant does not need service according to a schedule, they can choose to ride using an on-demand option. On-demand callers are placed on the driver schedules where there are open time slots via the dispatcher.
Looking ahead
UNC Charlotte Parking and Transportation Services through Niner Transit and Niner Paratransit continue a commitment to meet the needs of a growing campus and increasing numbers of students, faculty, staff and visitors who need transportation assistance. We have reason to be proud of the strides made during this past decade, and but we must continue to build the program, expanding and enhance services that will make UNC Charlotte a fully accessible campus.
_____________
Links to learn more about Niner Transit and Niner Paratransit
Niner Paratransit services brochure