Niner Diners Mobile Ordering app increases donations for semester food drives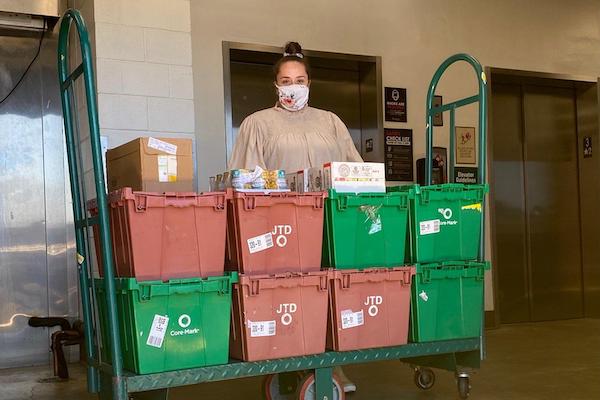 Thirty-two percent of UNC Charlotte students are food insecure according to UNC Charlotte Anthropology professor, Nicole Peterson. The USDA defines food insecurity as lacking consistent access to enough food for an active, healthy lifestyle.
Chartwells, the campus dining partner, is actively working to address this issue through a variety of donation programs. Each semester, Chartwells collaborates with Student Assistance and Support Services (SASS), Leadership for Community Engagement and Auxiliary Services to host 49er Gives and Swipe Out Hunger, donation drives that directly support UNC Charlotte students facing food insecurity.
49er Gives encourages students to donate declining balance funds (the dining dollars associated with their meal plan) to be used to purchase food for the Jamil Niner Pantry. Operated by Leadership and Community Engagement, the Jamil Niner Pantry provides students in need with a safe way to procure healthy, culturally appropriate emergency food.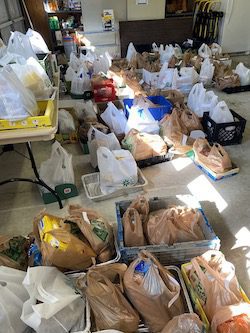 Swipe Out Hunger gives meal plan holders the opportunity to donate up to two unused meal swipes. Meal swipe donations are bundled into increments of 20 and given to SASS to provide to students who have qualified for the Swipe Out Hunger program. Swipe recipients may use them at campus dining halls and Crown2Go. Collectively, by providing swipes and access to the pantry, SASS and Leadership and Community Engagement are able to address food insecurity from two angles.
Traditionally, the drives occur as week-long tabling events outside of the dining halls, but COVID once again challenged normal operating procedures. The collective team knew it needed to be creative to inspire giving to support the students who needed it more than ever.
Chartwells and the Auxiliary Services technology team partnered to move these drives from in-person to digital by hosting them in the new Niner Diners Mobile Ordering app. This app provides the campus community with a safe, contactless way to order food from all of the retail dining locations on campus. It also ties accounts to 800 numbers, so students and faculty/staff who have meal plans can use any of their 49er card funds to make dining purchases on campus.
To generate awareness among the app's 1,280 average daily users, 49er Gives and Swipe Out Hunger donation buttons were added to the top of the app's main page. The donation periods were lengthened from their standard week to 16 days for Swipe Out Hunger and nearly 2 months for 49er Gives — giving students ample time and opportunity to make a donation.
As a result, 49er Gives saw a 539% increase in participation, yielding a total donation of $1,575. This amount was $1,328 more than what was collected for the fall 2019 drive when the campus was at full capacity. Chartwells used the donation funds to purchase over 3,500 pounds of highly-requested, non-perishable items like canned chicken, pasta sauce, razor blades and shampoo for the Jamil Niner Pantry. These items will provide students with supplies for weeks. Swipe Out Hunger received 506 swipes donated from students. While this number is lower than the number received in 2019, the team still considered it a success, since there was 50% less meal plan participation this year. Chartwells generously donated an additional 2,500 swipes to make up for the shortfall and support our students during the spring semester.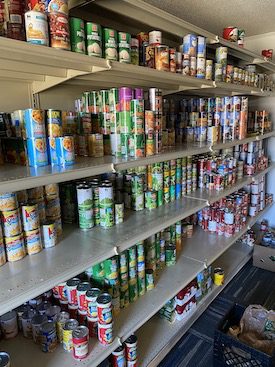 "The partnership between our four units is so critical because everyone has a role in making the program successful. There are technical services that we rely on Auxiliary Services for, the support of Chartwells through the swipes donations and the location where students can eat and of course the partnership with Leadership and Community Engagement, we are able to support one another's initiatives for food insecurity. It's a moving partnership that without one piece we would not be as successful," says Katie Russo, associate director of Student Assistance and Support Services.
While we continue to face Zoom fatigue and long for meaningful in-person connection, technology is proving to provide opportunities for good. The drives reached a larger audience and promoted more donations even with a reduced population on campus. Erin Hutchison, senior director of retail operations at Chartwells, says that regardless of in-person status changes, future donation drives will be hosted on the Niner Diners Mobile Ordering app due to the success seen this past semester.
Russo said that 153 students were identified as food insecure in 2020 and that only includes those who were referred to or met with a member of the SASS team. There are likely many more impacted students who have yet to be identified. Joe Harvey, assistant director of Leadership and Community Engagement says they have seen a 186% increase in weekly orders since the start of the pandemic.
If you would like to help UNC Charlotte's food insecure population, you are encouraged to refer students to SASS for further discussion of the Swipe Out Hunger program, donate to the Jamil Niner Pantry (they are always looking for grocery bags and egg crates) and/or you can volunteer your time.
Contact Katie Russo or visit the Student Assistance and Support Services website if you are a student who is facing food insecurity.
Contact Joe Harvey to sign up to volunteer or visit the Jamil Niner Pantry website to learn more.