Mobile Ordering
Niner Diners Mobile Ordering app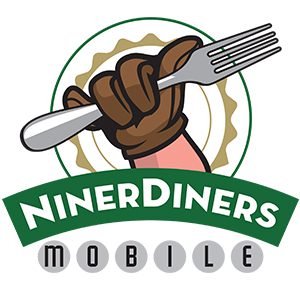 Skip the line and order meals right from your fingertips!
To download:
Select UNC Charlotte.
Sign up using your NinerNet login.
To use:
Select any open dining location.
Customize your order.
Pay ahead.
Wait for the app to notify you that your order is ready.

Walk up to the Niner Diners Mobile Order pick-up sign, grab your order and go.
Rewards
Earn points with every purchase you make on the Niner Diners Mobile Ordering app! Points can be used to enter limited-time contests for prizes like branded gear, ODA funds and campus event tickets. Order and start earning today.
How to pay
The Niner Diners Mobile Ordering app offers a variety of payment options.
To use DB, ODA, ODA Bonus or 49er Account funds:
Tap"Select 49er Card Spending Account" to choose one of the following options:
Declining Balance: Declining Balance funds that may accompany a block plan or a Straight Declining Balance plan
Optional Dining Account (ODA): Funds you have added to your card that can be used for campus dining purchases
49er Account: Funds you have added to your card that can be used for dining or other on-campus purchases
ODA Bonus: Additional ODA funds that Dining Services has deposited on your account because you participated in a limited-time promotion
Please note: If there are not enough funds in one account to cover the total amount of your purchase, the ordering system is not able to pay the balance with another account at this time. Only one payment type is accepted per purchase.
To use debit or credit:
Use the "Select 49er Card Spending Account" option when checking out if you wish to use a debit card or credit card. Tap "Add Credit Card," input your card information, and tap "Add Card." The app accepts Visa, Mastercard, American Express and Discover. This card will be saved and available for future purchases.
Debit/credit card users: Your bank will place a $1 authorization hold on all first-time credit and debit card transactions to verify a valid card payment. The hold will appear separately from your mobile ordering purchase and will show up as UNC Charlotte Bojangles on your statement. The hold may take up to one week to clear your account.
Mobile ordering payment processing issues:
Credit and debit card processing issues have been known to occur during check-out. If this happens, the app will notify you that your payment has failed and you will need to reorder your meal. Your bank will also place an authorization hold on your card for the amount of your original order and it may take up to a week to clear your account. The hold will list the dining location from which you ordered.
If your credit card or debit card payment fails, you may try to reorder using the same card, or select any campus account funds you have available such as Declining Balance, Optional Dining Account (ODA) or 49er account. You may also visit the location and place an order in person with a cashier.
How to use the app