49er ID Card
In addition to your meal plan, both the 49er Account and the Optional Dining Account reside on your Charlotte 49er ID Card. Simply make a deposit and the accounts are instantly activated!
A 49er ID card allows access to:
Campus housing
Campus activities and programs
Athletic events and recreational facilities
Computer labs
Student Health Center
The 49er ID card also serves as a:
Meal plan card
Library card
Secondary credential for virtual parking privileges
And holds funds for:
49er Account
Optional Dining Account (ODA)
To get a 49er ID card, you'll need:
A student ID number that begins with 800 or 801 (assigned at acceptance; appears on the acceptance letter);
To be registered for classes;
Proof of University affiliation such as acceptance letter, class schedule or tuition bill;
One valid proof of identification such as a driver's license, state-issued ID or passport.
Visit the 49er ID Card Office in the Popp Martin Student Union to have your physical ID card printed.
49er Card at the Dubois Center at Center City Campus
For students attending classes at the Dubois Center in uptown Charlotte, 49er Cards can be printed at the Center City Campus on a limited basis. Please submit a photo online. Once you receive a notification of your photo approval, please email duboiscenter@charlotte.edu to request your card.
If you prefer to collect your 49er card on the main campus, please visit the 49er Card and Meal Plan Office in the Student Union.
49er ID Cards have contactless technology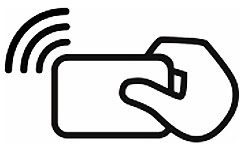 The 49er ID Card contains a chip within that allows for tapping at card readers, indicated by this icon. Most point-of-sale registers allow for tapping, as do many residence halls.
49er ID Cards include two sets of numbers: one that identifies the card and one that identifies the person to whom the card belongs. The nine-digit number that appears under the barcode is your permanent UNC Charlotte ID number. It begins with 800 or 801 and is linked to your University records. This number does not change and will be the one you use most.
The 16-digit card number is a secure numerical standard that links each card transaction to you. The number will change if the card is ever replaced.
Activation of card accounts and features
Immediately available: Door access, meal plans, campus spending accounts
Next business day: Parking gate access, key boxes, Kronos
Within five (5) business days: CATS Transit Pass
Do not punch or drill a hole in your 49er ID Card
This may damage the chip and cause the contactless feature to stop working. If you choose to punch holes in your card, you are responsible for the cost of replacement ($20) if it no longer works.
The 49er ID card is property of UNC Charlotte. It must be carried at all times and presented to University officials upon request. Card is nontransferable. Unauthorized use or alteration warrants confiscation and/or disciplinary action. Return found cards to the 49er Card Office.
Use of card images
The University may use the cardholder's image for internal identification purposes, including for the generation of photo-based class rosters. Please see 49er Card Terms and Conditions for more information.