Thirteenth annual 49ers4Life blood drive collects 238 units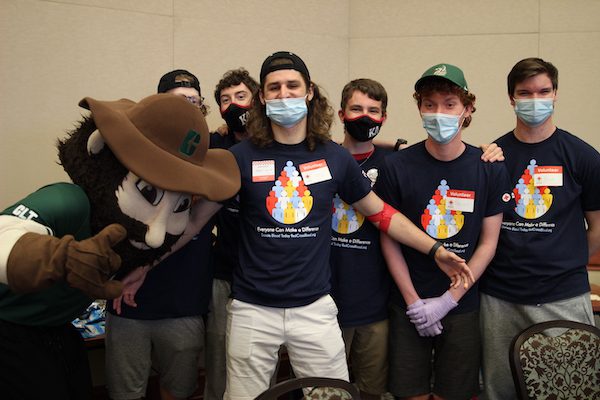 With the Red Cross experiencing the worst blood shortage in more than a decade, faculty, staff and students eagerly lined up to donate at the Popp Martin Student Union on Thursday, March 24.
Last year saw a 62 percent drop in college and high school blood drives, according to the Red Cross's website.
In 2021, the 49ers4Life blood drive collected 187 units of blood. This year, with the help of many student organizations promoting the blood drive and University departments, the 49ers4Life blood drive collected 238 units of blood, enough to save 714 lives.
Donors could walk in or make an appointment in advance at the Red Cross website to donate at the event. They received a free t-shirt and entry into a prize raffle. Pizza, cookies, juice and other snacks were available to donors.
Rick Torres, program manager for reprographics, vending, and ATM, helped to organize this year's drive. He was excited to see the number of people who came out to support the Red Cross last Thursday to help with the need for blood donations. "Treatment of COVID-19 created more demand for blood and many blood drives have been canceled, so individual donations matter now more than ever," Torres said.
The high turnout was in large part due to widespread coordination across departments and organizations. Student Government Association, Business and Auxiliary Services, Chartwells, REPROS, Barnes & Noble Charlotte, CRES and nine other organizations pitched in to make the event a success.
Dick Beekman, Student Body President, took to social media to urge students to donate. The student Red Cross Club and other sponsoring organizations tabled outside of the Popp Martin Student Union and Prospector to hand out flyers and educate prospective donors about the benefits of giving blood.
Norm even made an appearance at the event to entertain donors as they waited in line to donate.
Joanna Savold, a new employee at the University said that she was thankful for the 49ers4Life Blood Drive because it gave her the opportunity to donate at work. "I'm not the best at remembering to donate every eight weeks, so I really appreciate that UNC Charlotte hosts this drive on campus. I can give blood without leaving work or having to schedule it on the weekend."
Torres said that he donates every year and, he is proud that the University comes together to support the Red Cross. "To witness the amount of faculty, staff and especially our students come out and donate makes me proud to be a part of Niner Nation."
Save the date for the next opportunity to participate in 49ers4Life on June 15 in the Cone Center.
Select the photo below to see a gallery from the event: