Niner Course Pack is coming this fall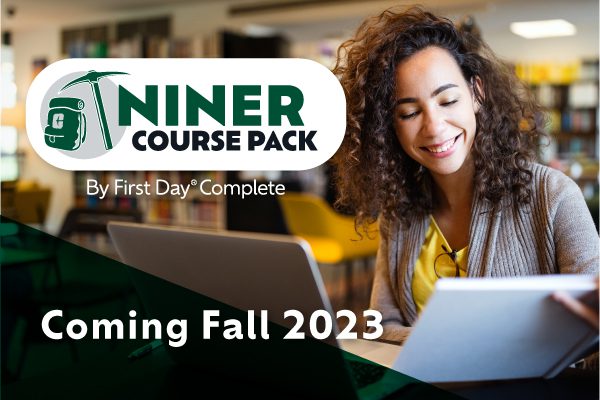 Beginning fall 2023, students will have access to the Niner Course Pack, an affordable bundle of rental textbooks and course materials from Barnes & Noble Charlotte.
The Niner Course Pack is part of an inclusive access program designed to bring down the cost of textbooks and access codes. The average student will save 35 to 50 percent off the cost of their materials. Eligible students will be able to use scholarships and leftover financial aid to cover the cost of textbooks.
The program also ensures that you have access to materials on or before the first day of classes.
Here's how it works:
Beginning in July, you will receive information from Barnes & Noble Charlotte about what's included in your Niner Course Pack for all of your courses. You will verify your course materials and select whether you will pick up your materials in the bookstore or have them shipped.
Your physical materials will be available prior to the first day of classes. Your digital materials will be available through your courses' Canvas pages once your instructor publishes their course.
The cost of your materials is a flat rate of $20 per credit hour billed to your student account. For example, a course load of 15 credit hours would result in a $300 charge.
At the end of the semester, you will return your textbooks to the bookstore by the posted deadline, or you may choose to buy your books at a discounted rate.
The Niner Course Pack will change how or whether you wish to shop around for course materials. If you prefer to compare prices, and you decide that the program does not present the best value, you may opt out before the posted deadline.
Opting out of the program means that you will not be billed for any course materials for the semester, and you will be responsible for purchasing your materials from Barnes & Noble Charlotte or another retailer.
If you would like to learn more, please visit the Niner Course Pack webpage on the Auxiliary Services website.