Market opens in new location with Amazon Just Walk Out technology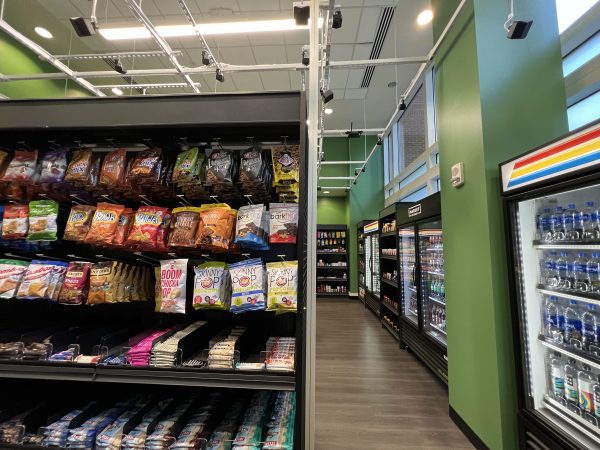 Get ready for some exciting news that's about to change the way you shop on campus. Imagine a store where you can just grab what you want and walk out without waiting in line at the checkout.
Well, guess what?
Amazon's Just Walk Out technology and UNC Charlotte Dining Services are teaming up to bring this futuristic shopping experience to Charlotte!
The first location of its kind in the North Carolina higher ed space, Market Powered by Amazon's Just Walk Out technology is expected to open on Monday, Sept. 18th on the first floor in the Popp Martin Student Union. The store will carry a variety of products, including convenience items formerly sold at Market on Craver.
Grab-and-go sandwiches, salads and sushi will still be available at the old Market on Craver location. Renovations will be coming soon to the space.
Improving customers' shopping experience
Amazon's Just Walk Out technology saves you time by eliminating the need for scanning retail items at checkout. Because a cashier isn't needed for staffing, the store will be open for longer hours.
"Market Powered by Amazon's Just Walk Out technology will allow students a frictionless shopping experience to get in and out quickly. Using this technology is going to allow us to open more hours of operation to better serve the student body," Ben Kolnos, director of retail operations for Chartwells, said.
A payment method is stored when you enter to shop, and cameras and shelf sensors track which items you take.
Once you are finished, you may exit the store without checking out with a cashier or self-service station. Your payment method is charged after you exit the store with your items.
If you need a receipt, visit the in-store kiosk or request one online.
The desire to improve students' retail experience started with the realization that the average Charlotte student doesn't have much time to shop around for necessities.
Jody Thompson, director of Auxiliary Services, wants to provide busy students with quick-service options when and where customers need them.
"Today's students are known for having busy schedules and balancing classes, clubs, athletics, socializing and employment. Amazon's Just Walk Out technology provides time savings and convenience that fulfills the daily needs of our customers," Thompson said.
Pay with campus spending accounts or credit card
Enter the store by scanning the Amazon Just Walk Out technology QR code in Niner Diners Mobile Ordering app or by inserting a credit card into a card reader.
To use Declining Balance, Optional Dining Account (ODA) or 49er Account funds, select the tender in the Niner Diners app. Once the tender is selected, a QR code will appear in the app. Scan your QR code at the entrance of Market.
If you wish to use a credit card, insert the card in the card reader at the entrance of Market as well.
Groups of shoppers must enter with their individual payment method to be charged separately for their items.
If you're shopping with your buddies, make sure each person enters with their payment method. If someone sneaks in without doing that, the person who did pay will be covering the bill for everyone. So, no freebies!
'Just Walk Out'
And as for the name, "Just Walk Out" says it all. When you're done shopping, you can literally just stroll out of the store. It's that simple and quick.
Market's speedy self-serve model and wide selection of products make it a must-visit spot for busy college students.
Dining Services staff are enthusiastic and eager to unveil the new Market technology to students. "I love how the University is on the cutting edge of this new way of shopping!" Kolnos said.