How to save with Niner Course Pack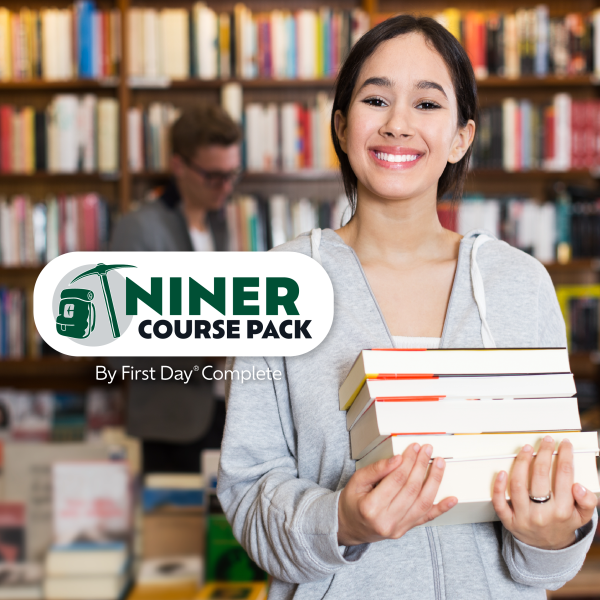 Tips for students and parents
Coming fall 2023
To help simplify budgeting for the upcoming school year, Barnes & Noble Charlotte has launched the Niner Course Pack, an affordable course material bundle that is part of the First Day Complete textbook rental program.
Nearly all UNC Charlotte courses will participate in the program, meaning students will be automatically enrolled when they register for classes.
The University will charge a low fee of $20 per credit hour to students' accounts to cover the costs of course materials. As a result, students know precisely what to budget each semester for their courses. For example, a student taking 15 credit hours will be charged $300 for course materials for the semester ($20 x 15 credit hours = $300).
Experience savings of 35 to 50 percent off
The estimated cost for books and supplies at UNC Charlotte during the 2022-23 academic year is $500 per semester. Some upper-division courses may require a single textbook that costs several hundred dollars.
Barnes & Noble College partners with publishers to offer the same materials at 35 to 50 percent off the new textbook price to reduce costs. With the Niner Course Pack, the savings are passed on to students through a combination of textbook rentals and digital delivery.
When instructors open their course's Canvas site, e-books and access codes are available. Students must return physical textbooks at the end of the semester, but they may purchase their materials at a discounted price.
Conveniently use remaining financial aid
If a student receives scholarships or other financial aid applied to their account, the Niner Course Pack will be covered by any remaining financial aid after paying tuition and fees.
Students will no longer have to apply for Bookstore Advance Program (BAP) funds to use remaining financial aid. They will receive their materials without any delays.
Save time shopping around
The Niner Course Pack will include a bundle of all physical course materials together for delivery or pick up from Barnes & Noble Charlotte in the Popp Martin Student Union.
Within thirty days before the start of the semester, students will receive an email to their UNC Charlotte email asking them to confirm their materials and shipping or pick-up preferences.
Once the materials are ready, students will receive a shipping confirmation or pick-up notification. No shopping around necessary!
Opting out of Niner Course Pack
Some courses may use free or low-cost materials that total less than $20 per credit hour. Students may opt out of the Niner Course Pack by the posted deadline if they determine that the program does not meet their needs. Barnes & Noble College will email students 30 days prior to the start of classes to give them the opportunity to compare prices and determine whether they want to stay in the program.
Students should be careful when opting out of the program because they may only opt-out on a semester basis. Once a student opts out, all course material charges will be refunded, and they will have to purchase materials on their own.
Get help if you need it
Parents and students with questions about Niner Course Pack can reach out to the bookstore directly for help determining the best value for them. Contact 704‑687‑7050 or sm276@bncollege.com.