SGA Recognizes Niner Course Pack Program For Improving Affordability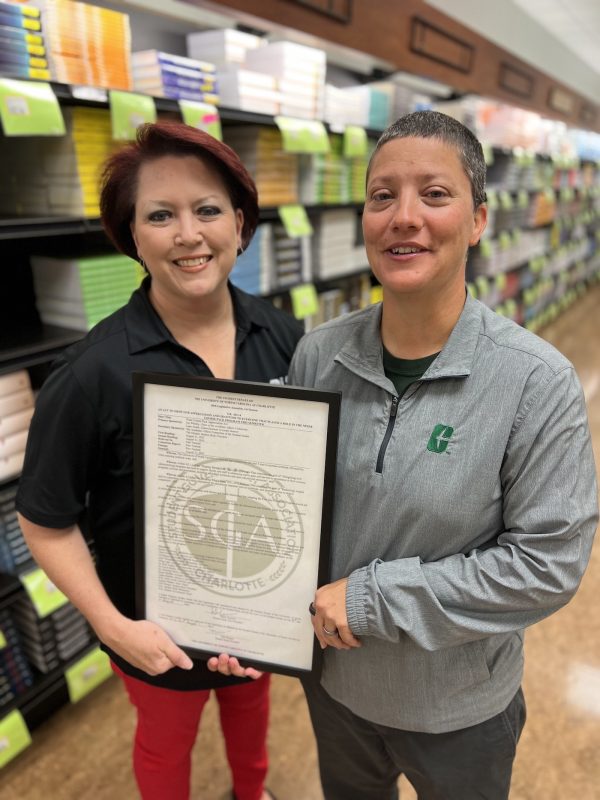 Business Services and Barnes & Noble Charlotte staff are among those lauded in S.R. 10.1-4. An Act to Show Our Appreciation and Gratitude to Everyone That Played a Role in the Niner Course Pack Program This Semester.
On Tuesday, Sept. 5th, Bookstore and Licensing Program Manager Rachel Skipworth and Barnes & Noble Charlotte Manager Cheri Griffith thought they were attending a routine meeting with student government members. Over the last few years, they have worked closely with past and present student representatives to promote textbook affordability, resulting in the Niner Course Pack program implementation this fall.
Instead, they were greeted with a welcome surprise. Joe Wholey, chair of the Academic Affairs Committee, presented the pair with two copies of an act to show "appreciation and gratitude to everyone that played a role in the Niner Course Pack program this semester."
The legislation acknowledges the years of meetings and conversations leading up to the Niner Course Pack launch and thanks everyone who played a role in shaping and introducing the program to Charlotte students. However, a special section is reserved for Skipworth and Griffith, who continue to work "tirelessly … [and] collaboratively with all stakeholders to ensure a smooth transition."
The Niner Course Pack is an affordable course material bundle that is part of the First Day Complete textbook rental program. Students are automatically enrolled when they register for classes.
The University charges a low fee of $20 per credit hour to students' accounts to cover the cost of course materials. As a result, students know precisely what to budget each semester for their courses. For example, a student taking 15 credit hours will be charged $300 for course materials for the semester ($20 x 15 credit hours = $300).
According to Skipworth, the program is an excellent value for students and one of the ways that Barnes & Noble Charlotte supports student readiness and academic success.
"We've been working on this program for a number of years with student government. It is a huge effort that touches many departments and requires intensive collaboration. A huge debt of gratitude is owed to Business Services staff, the bookstore staff, students who supported the project, the staff in the Bursar's Office, and others who gave their time and input along the way," Skipworth said.

Rachel Skipworth, Bookstore and Licensing Program Manager
Students who benefit from the program save an estimated 35 to 50 percent off the retail price of their materials. Ebooks and online modules are made available through Canvas when the instructor opens their course.
Along with time savings, students who wish to use any remaining financial aid to cover their materials can do so automatically since the materials are billed to students' accounts. Prior to the program, eligible students would have to apply to use their financial aid to purchase materials. The new approach has streamlined textbook buying for those students.
Skipworth appreciates the recognition the program has received but she wants to make sure students stay engaged and provide feedback. "Overall, the program has been a success so far but we are always looking to improve. We aren't done yet. I ask that students continue to work with us to look for ways to make Niner Course Pack even better."
Students are encouraged to keep their eyes out for a survey about their experience with the program this fall. The responses will be used to make adjustments for the spring semester.