Thanksgiving dining news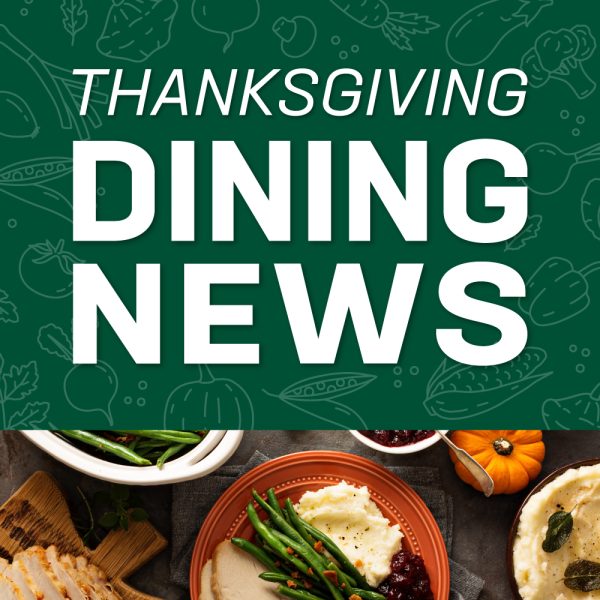 'Tis the season for feasting and giving thanks.
Here's how you can enjoy campus dining over the holiday break and help others who are struggling with food insecurity:
Order meals to eat over Thanksgiving Break
Prepackaged microwavable meals will be available for preorder from Friday, Nov. 10 to Friday, Nov. 17 through the Niner Diners Mobile Ordering app.
Pick up meals between noon and 4 p.m. on Tuesday, Nov. 21 and Wednesday, Nov. 22 at SoVi Market.
Help students in need of meals
Did you know one in three college students experience food insecurity?
You can help by donating up to two meals during Swipe Out Hunger from Nov. 13 to Nov. 17.
Select Swipe Out Hunger in the Seasonal Specials section, click Swipe Donation and check out. Only one swipe may be donated per transaction so please consider donating two swipes through two separate transactions.
To donate in person:
Visit the Swipe Out Hunger tables at the entrance of SoVi or Social 704 between 10 a.m. and 2:30 p.m., Monday, Nov. 13 to Friday, Nov. 17. Donated meals will be provided to students in need in spring 2024. If you are experiencing food insecurity, request meals through Student Assistance and Support Services at 704-687-0289.
Please contact Jes Dormady, assistant director of leadership and community engagement, if you have questions.
Thanksgiving hours
Dining halls will be open Monday, Nov. 20 and Tuesday, Nov. 21, for regular service. Dining halls will reopen on Sunday, Nov. 26 at 5 p.m. for dinner service.
Check Dine on Campus for the most up-to-date hours, menus and events.
Happy Thanksgiving, Niners!