Vending Update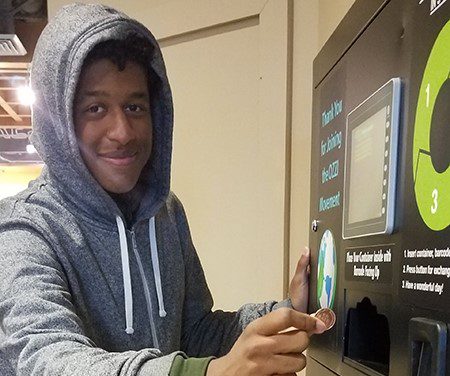 No change? No problem.
If asked to list things a university needs to support its educational mission, vending machines would probably not make the top 10, or even 50. But we know that hardly anyone goes through a week on campus without needing a hydration, energy or caffeine boost.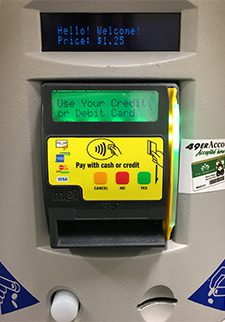 That's why Auxiliary Services and vending partners Coke, Pepsi and Canteen, have undertaken a project to expand payment options on campus vending machine readers, making it easier to get the refreshment you need. The task was completed this month; over 180 beverage and snack machines now accept bank cards, mobile payment and 49er Account in addition to the usual cash and change.
Almost all campus vending machines offer the upgraded capability. However, there remain a few that do not because the cell signal required for operation in their location is insufficient. Those machines will have card readers that accept the 49er Card.
Did you know:
UNC Charlotte has 201 vending machines: 125 beverage, 71 snacks, five coffee.
FY 2018 – 406,000 items were purchased in snack vending machines
Vending proceeds provide amenities like outdoor seating, tables and patio umbrellas, and support several programs that benefit students, faculty and staff.
O2GO comes to SoVi2Go
Another kind of vending machine, featuring the OZZI® patented reusable container system, has been installed on the upper level of South Village Crossing. It's one more step toward a zero-waste goal, offering SoVi2Go an alternative to containers that are disposed after one use.
How it works
Purchase a BPA-free O2GO container at SoVi2Go. Price is $5.74. You may use campus spending accounts, 49er Account, DB or ODA.
Fill it up with food at SoVi2Go.
EAT!
Return the container to the OZZI machine. No need to wash or rinse it!
The machine will dispense a token.
Next time you go to SoVi2Go, exchange the token for a fresh container
Enjoy your next take-out meal and declare, "Not today, landfill. Not today!"
The OZZI® machine is a Chartwells Higher Education sustainability initiative that is being rolled out to other university accounts across the country. It only takes a few thousand O2GO containers in rotational use to eliminate 1,000,000 single-use containers ending up as garbage.