Everything you need to know about printing on campus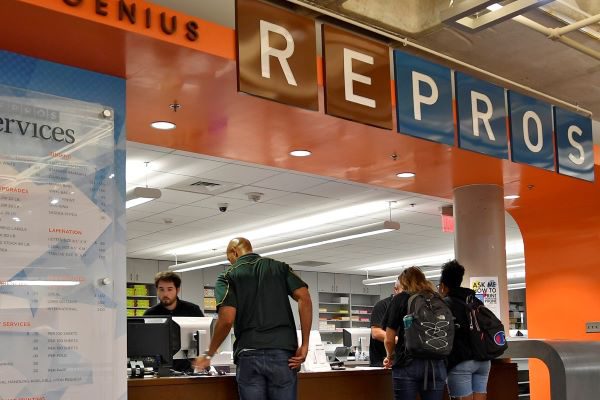 We are excited to announce that REPROS has launched a number of new program improvements for campus copying and printing services, including new product offerings:
Expanded wide-format printing, including direct-to-foam core posters, signage and banners for indoor and outdoor use
Custom floor graphic printing
Coroplast yard signs
State-of-the-art, high-speed equipment upgrades at the REPROS document center have improved the quality and speed of print production. Customers can now enjoy the convenience of laying out and ordering their print jobs online through REPROS Digital Storefront.
Copy codes and cards no longer needed
REPROS multifunction devices no longer require the use of copy codes or copy cards. Machines are equipped with a 49er Card reader that you can tap at any device to release prints from your print queue.
As a result of machine upgrades, most campus multifunction devices and printers require you to have your 49er Card to release your print jobs on campus.
Faculty, staff and student workers are able to select whether you wish to use a department fund code or 49er Account to pay for prints. Learn more about adding a department fund code.
Guest printing is available without the need to put funds on a copy card. Visitors can print at Atkins library and pay at the circulation desk. Learn more about guest printing.
Departments that have remaining balances on their existing copy cards should contact Marisa Elston in Auxiliary Services to make adjustments to your fund code.
REPROS Digital Storefront
With REPROS Digital Storefront, you can order documents with a large variety of finishing options online and receive updates instantly when you submit your order and your order is completed.
Additional Digital Storefront enhancements include the ability to:
Select a due date for your order and receive notifications if the due date has changed
View a preview of your document before submitting your order
Pay with a department fund code (if authorized)
Departments that are interested in purchasing or leasing equipment can view machines and request a quote in Digital Storefront.
Students paying for print services with SGA-approved funds can easily order through Digital Storefront and have their purchases routed through the proper approvals.
Convenient mobile printing with PaperCut
PaperCut has replaced Inkspot for printing from your laptop or mobile device. PaperCut works seamlessly with Apple's AirPrint and is easily installed on Android operating systems. Learn more about printing from your laptop or printing from your mobile device.
Questions?
If you have questions about the new program features, please contact REPROS at repros@uncc.edu or 704-687-0809.