Comfort food for quarantine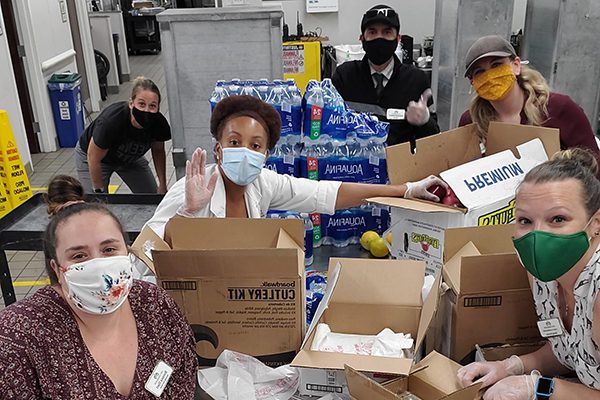 On this we all can agree: food and comfort take on outsized significance during a pandemic. For students isolated in a residence hall where all their engagement – from academics to entertainment — happens through a screen, this is even more true.
"Quarantine and isolation students do not have a lot going on," said Jody Thompson, interim director of Auxiliary Services. "They are taking classes online and sitting in an apartment or room by themselves and they aren't happy about it. Maybe they're also not feeling well. The dining piece truly becomes what they look forward to."
Meal order webforms submitted at 3 a.m. attest to this.
COVID-19 caused Chartwells, UNC Charlotte's food services partner, to adjust dining operations in ways that have gone far beyond droplet protection, sanitation practice and distancing protocols. There are fewer students and staff on campus but those who remain often require very different service.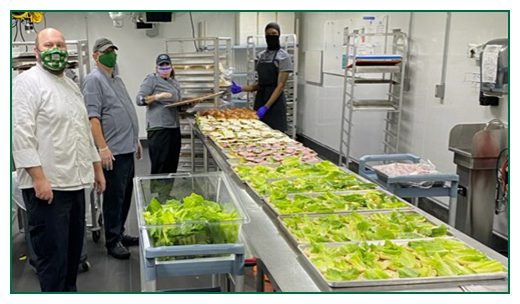 Quarantine meal prep in the catering commissary
The commissary kitchen has shifted from event catering to preparing food for students in quarantine and isolation. Retail operations provide meals for students in residence halls who have been told to stay put for testing because wastewater sampling shows virus present.
"We are designing programs for a need that didn't exist before now, having to edit and refine them as we go along," said Sarah Lynch, Chartwells Higher Ed resident district manager. Lynch sees her role as being one to fully understand the University's expectations and then coordinate with the dining team to deliver service to match the objective.
"This is what we do," she continued. "We are still in hospitality and that has to be woven through all our efforts."
Return to campus planning
Fall preparation began in March as representatives from Business Services, Dining Services, Housing and Residence Life, Office of Emergency Management, Student Health Center and others worked through the logistics of managing potential outbreaks and caring for those affected. From the dining side, what kind of meals would be needed? How should they be prepared, packaged, delivered? For how long?
Thompson details some of the challenges. "Chartwells corporate leaders said from day one that they would not permit their employees to go inside the residence halls due to potential exposure. How were we going to get meals to students' doorsteps?" Housing and Residence Life support staff provided the solution. Dining Services delivered the meals to the halls and HRL staff took it from there. Would the small room fridges accommodate three days worth of meal containers? HRL alleviated that concern too, and moved larger refrigerators into some of the halls.
Dining's multi-part COVID-19 response program
In addition to broad collaboration with campus departments, creative thinking was required from Chartwells' executive team, including Lynch, executive chef John Hutchison, and operations director, Jorge Elizagaray. Separate action plans were created for students in quarantine (due to close exposure), isolation (after a positive test result) and those living in residence halls identified for COVID testing through wastewater samples.
Quarantine/isolation meals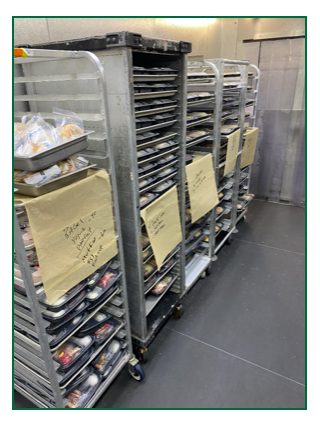 Racks of quarantine meals chilled and ready for the morning delivery
Meals for those in quarantine need to be fresh, complete meals, packed in microwavable containers and delivered chilled on a predictable schedule.
"When this whole thing started," recalls Hutchison, "we couldn't find microwaveable containers. Every restaurant and hotel in the world was suddenly buying them, along with cutlery kits. We had to source everything."
"Quarantine meals are delivered in the morning, Monday through Thursday and include lunch, dinner and breakfast for the next day," Elizagaray explained. "On Friday, the students get three of each meal to last the weekend through Monday breakfast." The menu offers a choice between two complete meals; students submit a webform to indicate their preference. Those with dietary restrictions receive meals customized accordingly. "We try to make comfort foods, so students feel like this is a home meal," Elizagaray said.
Dining's COVID-19 response also looks out for students who are admitted into isolation during a weekend. Their meals are 'chef's choice' from one of the dining halls and delivered to them.
Registered dietitian, Natalie Holzhauer, often tours the dining halls with students who have food allergies and/or dietary restrictions, explaining ingredient icons and pointing out food to be enjoyed or avoided. When these students are under quarantine, they have Holzhauer to consult to ensure their meals will be OK.
One Friday last fall, a student with multiple allergies was moved into quarantine. "We gave him some microwaveable meals that we knew would be safe," Holzhauer said. And then she learned it was also the young man's birthday. "I had an intern with me and we went to the Market [on Craver] and picked up a whole bunch of bagged items that he could have for snacks, just to make sure he could get through the weekend." That little extra effort was for the intern, a great lesson in scrutinizing ingredients, and the student was quite appreciative of their thoughtfulness.
When they need more than food
Adding a Market Essentials option to the meal request webform allowed students in quarantine and isolation to purchase items like Tylenol and toiletries to be included with meal delivery. When they asked for Doritos and Gatorade too, the program expanded with Market Essentials Plus, providing students a way to use meal plan declining balance through the campus C-store.
Surge meals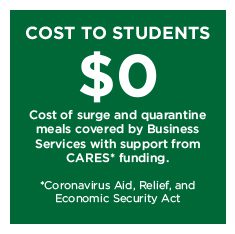 When residence halls are flagged by wastewater testing, dining operations are pressed into service for fast, hot meals, packaged and distributed from long tables outdoors. The toughest surge event so far, recounts Lynch, was when "Three residence halls went down. One hall got Chick-fil-A, one got Bojangles, one got Panda Express." Chartwells had only a few hours notice to feed 800 students their favorite brands.
Meanwhile, back in the dining halls…
Dining Services served about 3,000 meals a day through Crown Commons and SoVi dining halls and scaled-back retail operations. New demands and staff reductions did not stop popular Chef Pop-ups that showcase fancier entrées and other culinary events like VeganFest.
"We thought this was going to be a three-week thing," said Lynch regarding Chartwells' COVID-19 response. "So we put together plans for six weeks and now it's been several months.
"I am so grateful for my team. They have been so flexible and willing to accommodate, as patiently as can be. We just want to pull this off with as much grace as we can."
Fall semester response, by the numbers: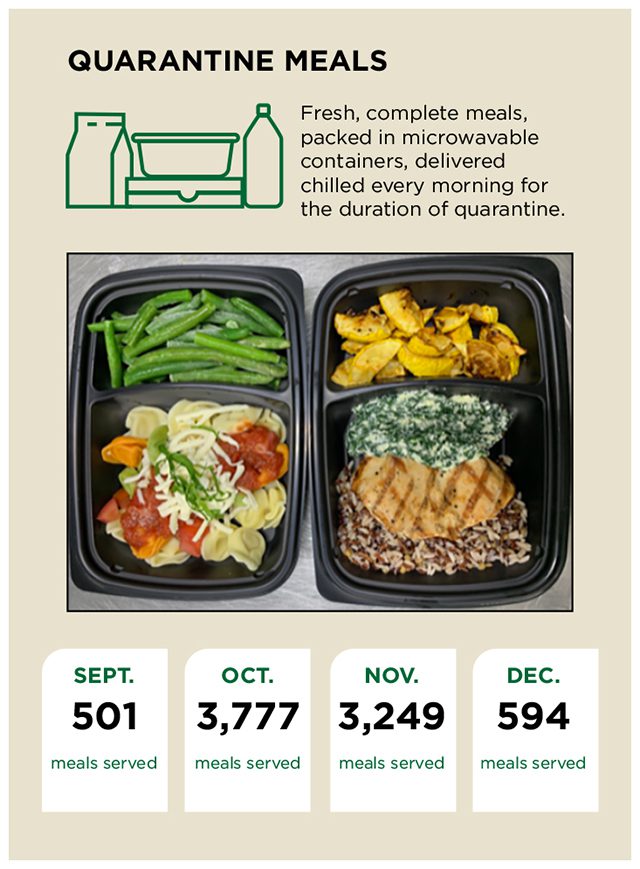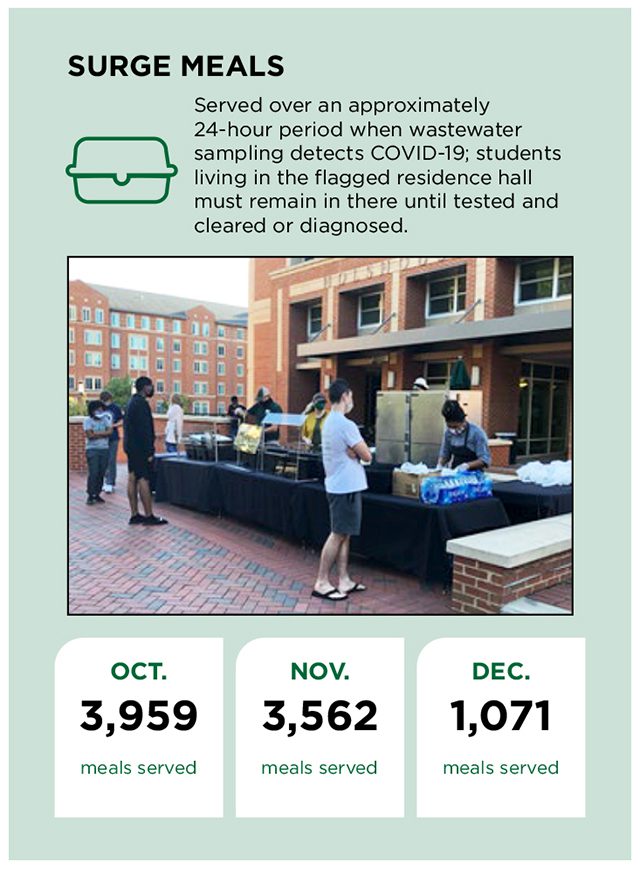 — L. Lamb