Spring dining and meal plan information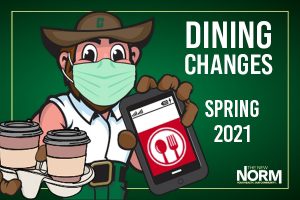 Dine on Campus (download for Android or iOS) provides dining hours, menus, nutrition and allergen information and upcoming events.
Here's what you can expect when dining on campus this spring:
All dining purchases are cashless
Payment options include University meal plans, Declining Balance (DB), Optional Dining Account (ODA), 49er Account, debit/credit cards, Google Pay, Samsung Pay and Apple Pay.
All retail orders must be placed through the Niner Diners Mobile Ordering app or kiosks at select locations.
All-you-care to eat and to-go options at SoVi
Be sure to check the dining hall capacity before you go. Dining occupancy is restricted to 50%, SoVi will convert to to-go only once it hits 60 – 70 percent of the 50 percent capacity (265 or more people).
Consider dining during off-peak dinner hours such as between 4:30 p.m. to 6:30 p.m. or 8 p.m. to 8:30 p.m.
Tables are limited to four people for your safety. Do not move furniture or gather around tables to accommodate more guests.
Practice social distancing while waiting in line and moving about the dining hall floor. Masks must be worn anytime you are not eating.
Taking your food to-go is still the safest way to dine. You may use the provided compostable to-go box or opt into the Ozzi program — a reusable, sustainable to-go container. Ozzi boxes may be purchased with campus spending accounts, 49er Account, DB, ODA and debit/credit.
To-go options at Crown2Go
Use the Niner Diners Mobile Ordering app to place your order.
Be sure to check the wait time in the app before ordering.
Dinner is the busiest time. Consider ordering before 6 p.m. or after 7:30 p.m. to minimize your wait.
Pick up your order on the second floor of the Student Union; avoid crowding the hallway outside of Crown2Go until you are notified that your order is ready.
Customize your order using the Allergies and Special Requests option at checkout in the Niner Diners Mobile Ordering app as necessary.
New ways to use a meal swipe
Starting in early March, meal swipes may be used to purchase Fresh2U sandwich or salad combos and Subway 6" sandwich combos at Market on Craver and SoVi Market.
Meal swipes are also accepted at Crown2Go and SoVi.
Dining Services is committed to providing a safe, clean and healthy dining environment for the campus community. Learn more about theprecautions we are taking in our dining facilities.
What to expect: retail dining
What to expect: dining halls
We love hearing from you. Please email us or use the Happy or Not machines located outside of SoVi and Crown2Go to let us know how we are doing. Use the QR code on the machine for a hands-free experience.