Delivering for Niner Nation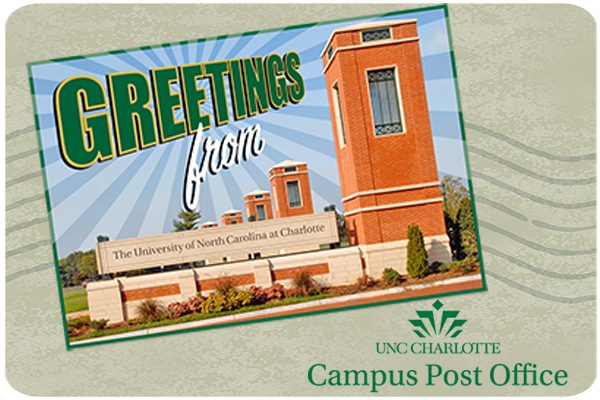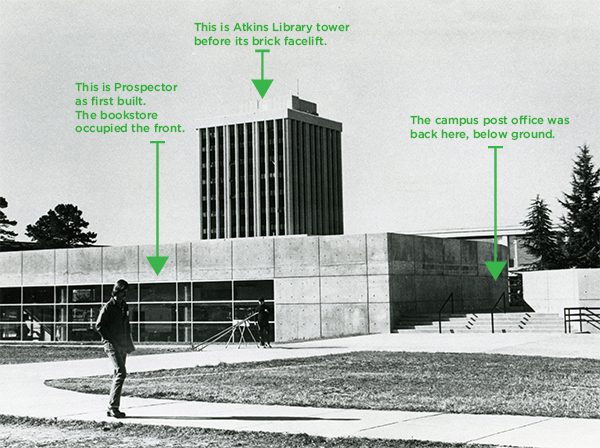 Eighteen years ago, the campus post office was a concrete corner of the basement of Prospector that was windowless, dank and cramped. Just getting there required finding a weird exterior stairway that led down to a single service window. Horace Lytch had been approached about a job managing the place and his first thought was, "This is like a dungeon. I'll pass."
UNCC Mail Services was not a space that exuded much promise or potential. But Keith Wassum, who was Business Services Associate Vice Chancellor at the time, believed Lytch could change that.
Lytch had postal experience in the Army, at Fort Belvoir and overseas. He was closely familiar with UNC Charlotte, having spent a decade in a position with the University's Army ROTC. He was an alumnus, too (BSBA '99).
"I met with Keith again, and I thought, 'This could be a real challenge for me,'" Lytch recalls. "At the time, I had a lot of energy! I had a lot of ideas about what we could do." He accepted the position in 2003.
Lytch's first order of business was to, in his words, "recruit and retain the best customer-oriented staff on campus." The work culture became one of high expectation and expanding services to better serve UNC Charlotte.
Growth, change and big ideas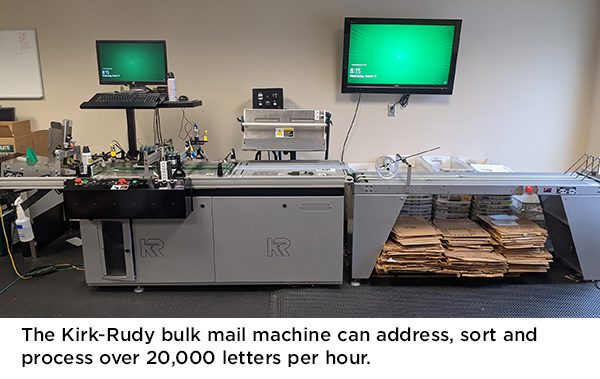 Departmental direct mail for events like recruiting receptions, performance calendars or the annual piano sale, were almost always sent to mailhouses off campus because campus mail services did not have the proper equipment. Lytch sought to change that. "I kept bringing back information and big ideas from CUMSA [College and University Mail Services Association] and other conferences," he said. "Keith [Wassum] would give me a hard time about what it was going to cost, but he supported me. We improved from a manual process to a printer/sorter machine —which I squeezed every penny out of for ten years — then a new high-speed machine that processes over 20,000 letters per hour." Currently, over 90% of campus bulk mail is handled in-house.
When Prospector building went through major renovation, the campus post office was freed from the basement dungeon. Customer-facing services were temporarily housed in Cone Center and receiving/ processing ops were on the lower level of the old Residence Dining Hall (now HRL). With the Student Union preparing to open, Creation Station, a banner, sign and balloon service that Student Affairs ran in Cone Center, would close. Lytch saw that as an opportunity to expand service reach. He suggested that Business Services take over Creation Station's large banner printing, graphics and balloon offerings, add U.S. Passport Acceptance and a contract postal station, and put it all in a Student Union storefront. In 2010, this mash-up opened as Union Station. The Passport Acceptance feature provided ease and convenience to a process known for neither. Word spread from campus to the surrounding community that Union Station was the best location for Passport preparation because customers may schedule advance appointments and receive thorough and attentive service.
About a year later, a new, improved and branded Mail & Package Services opened in the renovated lower level of Prospector. Instead of one sad service window in a fall-out shelter, there are three large, inviting ones, with a separated package window, too. There are mail slots for ready drop-off, a comfortable queue area, chairs, and even some vending machines.
The next big improvement benefitted resident students most. Used to be, anything sent to them via US Postal service went to mail services and anything shipped by other carriers, like UPS or FedEx, went across campus to Receiving & Stores.
"That process really irked me," said Lytch. "Students were running all over campus to get their packages." Lytch advocated for a streamlined solution under Mail & Package Services. He knew his team could handle the increased responsibility and improve the customer experience. Now, all resident student packages come to the Prospector facility, regardless of the carrier.

The timing of this transition was fortuitous because online textbook ordering exploded. "We did not expect that many packages!" exclaimed Lytch. "We went from 200 packages in per day to 1,000, sometimes more. Book rental season is huge!"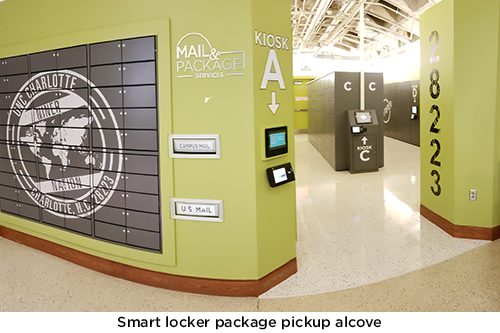 Online ordering of books and just about everything else represents a sea-change that might capsize less innovative campus post offices but Mail & Package Services was positioned to take on the challenge. Smart Lockers were installed in 2019 to provide resident students with convenient, self-service package pickup. When a package arrives, students get an email notification and may retrieve their packages from a Smart Locker any time the Prospector building is open. The Smart Locker alcove serves as a model for other universities; many have come to see it as they make plans to install a similar system.
"Always thinking"
"Horace's mind never rests," said Tracey Copeland, Mail & Package Services Assistant Director. "He is constantly thinking of ways to improve workflow."
Leading by example, Lytch has earned more professional certifications than his email signature can hold. Most of his staff have, too. "He constantly encourages our employees in professional development and provides us opportunities," said Copeland. "I am thankful for his vision."
"Horace has done great things, always trying to expand, improve and make services better for students, faculty and staff," echoes Wassum.
Time for new rounds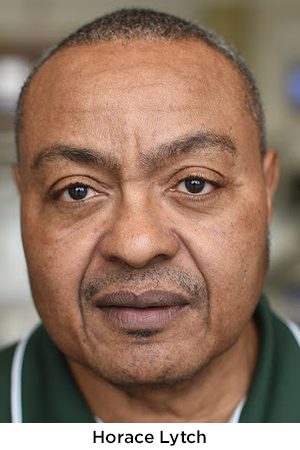 Horace Lytch will retire late this summer. "There are still things I hope to accomplish before that date," he said. No one who has worked with him doubts that for a second. The only thing they do doubt that is that he will stay retired. Mail & Package Services has a reputation for boomerang retirees who come back to work awhile longer. Some have done so multiple times! This too testifies to Lytch's leadership; Mail & Package Services staff take pride in the job and often miss it when they leave.
Though the work is back-of-house and largely unseen, Mail & Package Services has earned a campuswide reputation for superior customer service. Big ideas and innovation still depend on predictable service and how-may-I-help-you. The USPS Postal Forum has presented Horace and his staff with multiple excellence awards; recognition plaques from CUMSA march up the office walls. Mail & Package Services and Union Station deliver excellence to Niner Nation and will continue to do so.
Lytch says he has promised his wife a few months of travel and work on their home, plus there are grandchildren to enjoy and other dreams to chase. He sure won't be idle. "I have to always be doing something."
Stats and Awards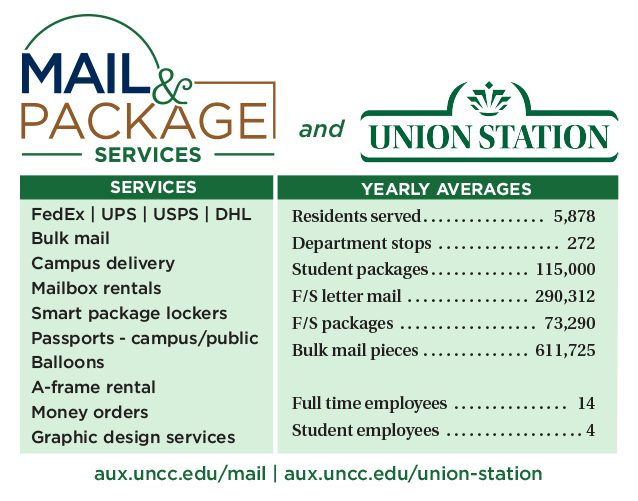 CUMSA (College & University Mail Service Association) recognition
2011: Ralph Yates Golden Stamp of Approval award for Outstanding Innovations or Achievements to the successful operations of a member institution.
2014: UNC Charlotte Mail & Package Services hosted the 27th Annual CUMSA Conference
Postal Customer Council* of Greater Charlotte
2008-2012: Gold Award
2012-2021: Platinum Award (PCC's Highest Award)
2017: PCC of the Year
*PCCs are groups of mailing industry and postal leaders who meet regularly to network and exchange mutually beneficial ideas. There are over 150 local PCC chapters throughout the nation. According to industry studies, the U.S. mailing industry employs more than seven million people and represents more than $1.3 trillion in sales revenue.
— L. Lamb