The Faces of Food Service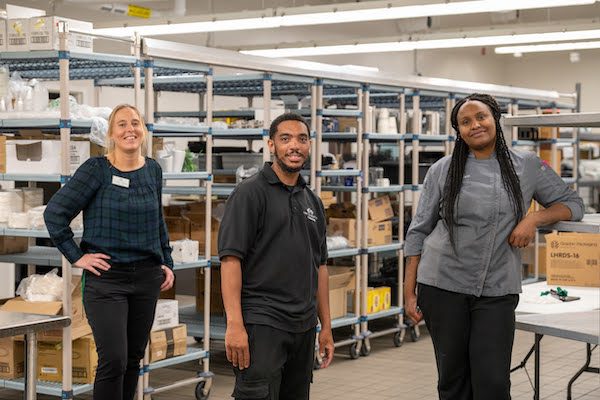 Food builds community — it inspires creativity and transports us to far-off lands. It helps us move through difficult times, stay awake in our afternoon meetings and tastes, well, pretty good. Dining Services know the impact food can have and is committed to being an essential campus service — remaining open during inclement weather events, campus tragedies and even a global pandemic. If you've been on campus since March 2020, you know that you can count on seeing Dining Services staff serving meals and cleaning a table for you — bringing a semblance of normalcy and everyday good food.
But pandemic or not, the planning for and providing of food service on a campus this large requires a lot of thought and care. The to-go box you carry back to your office may have been packaged by one, but many hands went into the finished product. From recipe creation to product ordering; from menu programming in the Mobile Ordering app to food prep; from order intake to food running, each step is carried out with you, the customer, in mind.
While the faces of Dining Services have been covered by masks this past year, know that each one has been proud to serve you and greeted you with a smile. We invite you to take time today to get to know some of the great people behind Dining Services
—
Chartwells has been the University's contracted food service partner since 2009. Each year they employ over 500 individuals, nearly half of which are students, to provide you with exceptional dining experiences at more than 20 retail locations, two dining halls, campus catering and athletic concessions.
Names in order of the photos:
Iesha Speaks – Quality Assurance Manager
Jorge Elizagaray – Director of Operations
Lindsay Klingenschmidt – Wellness and Sustainability Coordinator
Brenna Hart – Dining Services Manager, Panda Express
Erin Hutchison – Director of Retail
Shakira Weddington – Supervisor/Barista, Library Cafe
Neiosha Foxx – Lead, Panda Express/Subway Grab & Go
Arika Patterson – Supervisor, Crown2Go
Brandon Arhart – Supervisor, Crown2Go
Jeff Cunard – Concessions Supervisor
Clarence Rodgers – Cashier/Greeter, Wendy's
Shirley Pratt – Cashier, SoVi
Alice Cunningham – Cashier, SoVi
Angela Clark – Cook, SoVi
Calvin Seabury – Sous Chef, SoVi
Samantha Honeycutt – Lead, Fresh2U
Jennifer Lilyquist – Director of Catering, Patrick Jackson – Catering Driver, Jessica Glen – Catering Cook
Red Barakat – Catering Captain
Melissa Nelson – Supervisor, SoVi Market
Morgan Smith – Catering Director