Thoughtful Cup opens with mural honoring liberal arts and sciences thinkers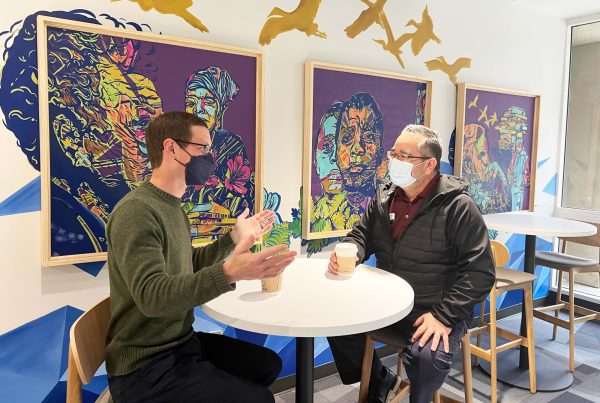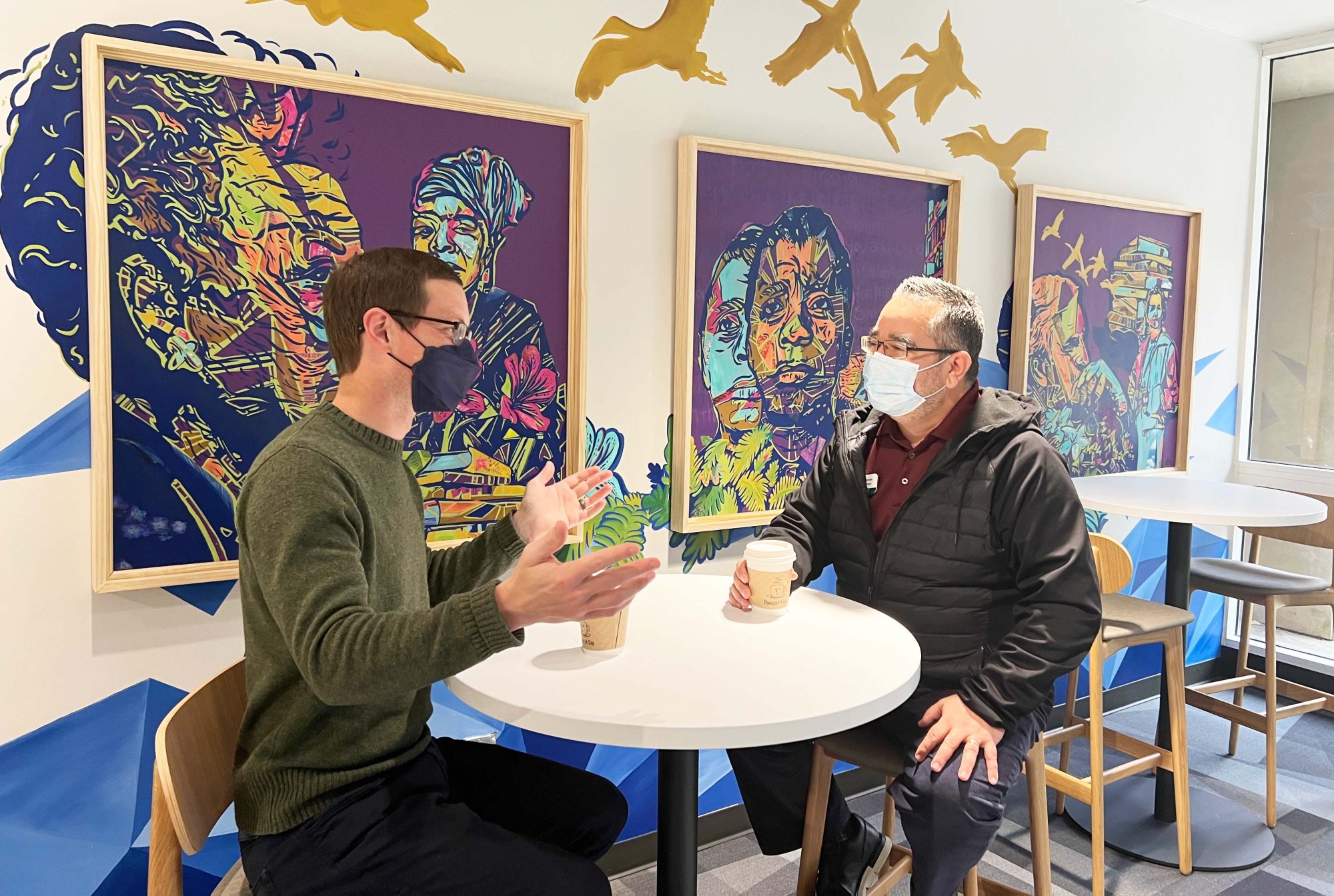 Dr. Joshua Miller, lecturer in Political Science and Public Administration, and Rick Torres, ATM, Vending and Reprographics program manager, meet over coffee at Thoughtful Cup.
A new coffee concept opened this week on the ground level of the Fretwell building.
Formerly the home of Fretwell Café, the expanded space features more than just fresh brewed coffee, espresso drinks and delicious bakery items. It has been transformed into Thoughtful Cup, a place for student and faculty collaboration, impromptu meetings and, of course, caffeine.
At the heart of Thoughtful Cup is a triptych mural planned and executed by local artist and South Mecklenburg High School art instructor Ashley Graham.
The mural, titled "Intertextuality," portrays major ideas and thinkers that have shaped the contemporary liberal arts and sciences.
For Graham, the piece signifies "interconnectedness and interdependence within our modern culture."
She hopes that students who view her work will recognize that "we learn from the texts and the profound people in these portraits, … by the works and ideas that came before us."
The expansive piece, which covers three canvases and continues on the wall above and below, depicts the ideas and likenesses of James Baldwin, Maya Angelou, Elie Wiesel, Adam Smith, Gabriel García Márquez, and Rachel Carson.
The idea for the mural was a collaboration between the Business Services marketing team, CLAS administrators and CLAS communicators. Individual faculty, students and staff were also consulted.
"Intertextuality" showcases figures and ideas that represent a diversity of thought underpinning the modern liberal arts and sciences curriculum. The ideas were chosen based on how impactful they have been in shaping the formation of recent disciplines and breaking boundaries between disciplinary silos.
"The mural illustrates in a vivid way how courageous thought and action can educate, engage and create change," said Nancy A. Gutierrez, dean of the College of Liberal Arts & Sciences.
"The college mission is to inspire thinking and to transform lives, much as these contemporary thinkers did, with their lasting impact in the world. Like them, our students learn to leave behind the confines of their comfort zones, to embrace unfamiliar concepts, and to think critically and creatively as they, too, shape the world around them."
Watch artist Ashley Graham's process video: https://youtu.be/lfW-uNGMZYM
Check out Dine on Campus for Thoughtful Cup hours, and download the Niner Diners Mobile Ordering app for pick up orders.