Summer blood drive collects 53 units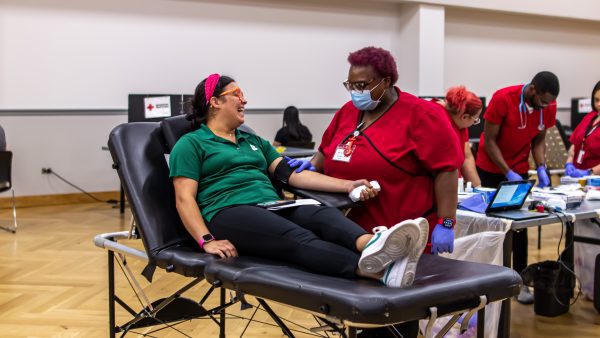 Nearly 159 lives will be saved as a result of the volunteers who came out to the Cone Center on Wednesday, June 15 to donate 53 units of blood!
Donors, volunteers and staff members all generously contributed to this event's success.
Chantrice Rasmussen, certified caregiver, CNA/LNA, aspiring phlebotomist and Red Cross staff member, came out to coordinate donors. "I figured [working with The American Red Cross] was the next step in helping people after being in different areas of healthcare for 10 years."
Kayleigh Hand, coordinator of early engagement for Alumni Engagement, heard about the national blood shortage and decided to donate. She explained that donating blood "is a simple way to help others that costs you nothing (other than some slight dizziness)."
Kayleigh was nervous to give blood for the first time, she said "the staff were great and helped ease my thoughts throughout the process. One small act of kindness could help save someone's life."
We hope to see you at our next blood drive in 2023!