The ABC's of buying college textbooks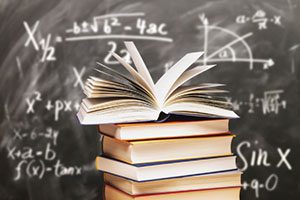 As we head into a new school year, you may find yourself overwhelmed by the number of online textbook retailers and options for renting or buying textbooks in all kinds of conditions–from pristine and shrink-wrapped to torn up and barely readable.
If you find yourself in this situation, we want to remind you that the campus bookstore, Barnes & Noble Charlotte has your back. Let's get into the As, Bs, and Cs of college textbook buying.
[A]ll about value
Barnes & Noble Charlotte works closely with thousands of publishers to maintain an industry-leading selection of affordable textbooks, allowing students and faculty to choose from flexibly priced rental, digital and used textbook offerings.
Competitors might offer deals like quick shipping or discounts for used textbooks, but they aren't always a good value. Sometimes buying online from other retailers or sellers can result in getting the wrong edition of the book or not receiving an essential access code for the online learning components required for the course. Your student may end up having to buy the access code separately and paying more for a book than if they bought it through the bookstore.
If you order through Barnes & Noble Charlotte, you will know that you are getting exactly what you need at a competitive price.
It is simple to find recommended and required textbooks. Your student can log in to my.charlotte.edu and visit Banner Self Service to look up their course materials. Check out the bookstore's textbook page for instructions. If you have your course numbers handy, you can also use this helpful lookup tool.
[B]uy smarter
Shopping around is great! We encourage it, and we want you to get the best value. That's why Barnes & Noble Charlotte has a Price Match Program.
If students find the exact in-stock book in the same condition online for a cheaper price through a competitor like Amazon or BN.com, they will match the price through the first week of classes.
If a student comes in after purchasing their materials during the first week of classes with their original receipt, they will gladly price match on that same day and refund the student via their original form of payment. The program includes purchase (used and new) and rental pricing, provided the rental term (number of days available) is comparable.
The Price Match Program does have a few exclusions. The program does not include online marketplaces like "other sellers" on Amazon and BN.com Marketplace, or peer-to-peer pricing. Price matching applies to same-condition items: used book to used book, new book to new book, used rental to used rental and new rental to new rental. Digital titles and special orders are excluded.
At the end of the semester, if the book is going to be used again, students have an option to sell the book back for up to 50% of their original purchase price.
[C]ontribute to your community
Support the bookstore that supports our students!
Through our unique partnership with Barnes & Noble College, we are able to award student textbook scholarships through their program. Each semester, Barnes & Noble provides a large number of students much-needed financial assistance to afford course materials and textbooks. In addition, they employ dozens of student workers each semester, helping them acquire professional skills and on-the-job training, as well as a reliable paycheck.
No other textbook retailer offers direct support for our students' academic and professional success.
If you have any questions about purchasing textbooks, please contact Barnes & Noble Charlotte at (704) 687-7050 and an associate will be happy to assist you!