Dining Services grows students' connections to their food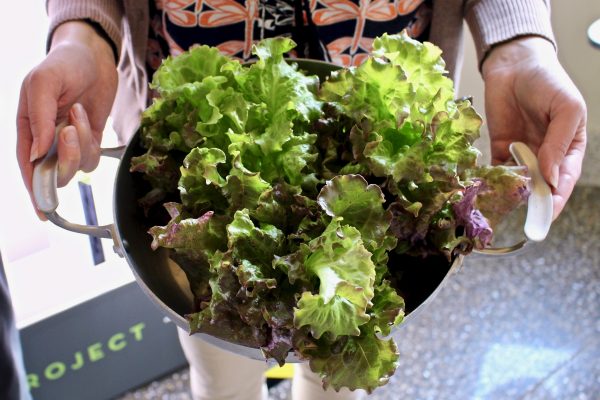 If you've walked by the Dining Services office in the Cone Center lately, you might think that it looks more like a research lab than an office. Shelves with glowing LED light boxes and seedling trays line the window. The bright lights cause students and staff to stop and look at the progress of the seeds as they start to emerge from the dirt. Some of them have even asked suspiciously about what is growing in the small containers.
The mysterious sprouts are part of Dining Services' new program called GROW Hydroponic Gardens that cultivates produce for the dining halls across campus. Chartwells, UNC Charlotte's dining services provider, has recently placed two double-sided, vertical, hydroponic towers at the entrance of SoVi. The tower gardens allow plants to grow with minimal resources once the seedlings mature enough to be transferred to the unit.
Lindsay Klingenschmidt, Dining Services nutrition and sustainability specialist, starts the seeds in the greenhouse boxes, where they take about two weeks to get big enough to transplant. She then transfers the plants to the towers and is able to harvest them after four weeks. Klingenschmidt has to spend about four hours a week tending the plants and making sure they get fresh water. It takes about six weeks to complete the entire process.
Since beginning the program, the gardens have yielded four harvests amounting to 17 lbs. of produce, which included a variety of lettuces, kale, basil, cilantro, oregano and parsley. Bok choy will be included in the next harvest.
Dining Services has found creative ways to use the food produced in the garden towers such as Teaching Kitchen events, Earth Day and at the salad stations in SoVi and Crown Commons. The GROW Lacinto Kale and Bright Lights Swiss Chard will be featured at the upcoming Flavors of Spring luncheon at Bistro 49 on April 25.
In addition to providing fresh produce, Klingenschmidt believes that the hydroponic gardens serve a larger educational purpose. She said that she uses the towers "as a teaching mechanism for students so they can see how their food grows," and she loves seeing students "develop a connection to their food."
Hydroponic gardening has a number of advantages compared to traditional gardening. Growing plants in the towers reduces the need for commercial fertilizers and pesticides. The units are conveniently narrow with casters so they can be placed indoors or outdoors where there is access to an electrical outlet, growing hyper-local produce, or produce that is grown close to where it's consumed, possible all year-round.
The GROW Hydroponic Gardens are part of a long-term effort to make dining services at UNC Charlotte as environmentally-friendly as possible. Both SoVi and Crown Commons dining halls recently earned designations as 3 Star Green Certified Restaurants(R) by the Green Restaurant Association.
Learn more at:
Campus dining halls recognized for sustainability (published March 26, 2019)
Flavors of Spring Luncheon registration