Vending Machines
Pharmabox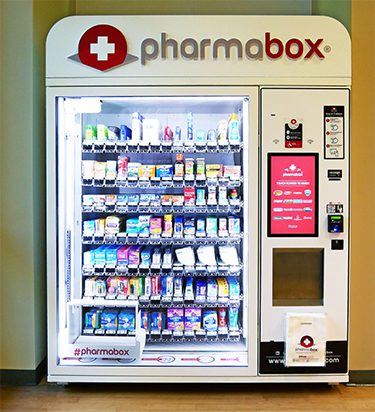 Pharmabox is a specialized distributor of over-the-counter (OTC) products and essentials. Our machine currently carries 82 different products and holds about 800 items, including face masks and hand sanitizer. The Pharmabox is located on the first floor of the Student Union next to the ATM and the public REPROS multi-function device.
Beverage machines
Currently, Coca-Cola and Pepsi Cola products are offered in 20-ounce bottles in campus beverage machines.
Coca-Cola products available are Classic Coke, Diet Coke, Sprite (caffeine-free), Dr. Pepper, Diet Dr. Pepper, Caffeine Free Diet Coke, Powerade, Minute Maid, Monster, Reign, Dunkin Iced Coffee, Smart Water and Dasani. Contractual requirements dictate the brands carried in these machines.
PepsiCo products are Pepsi, Diet Pepsi, Mountain Dew, Diet Mountain Dew, Cherry Pepsi, Sierra Mist (caffeine-free), Diet Sierra Mist (caffeine-free), Caffeine Free Diet Mountain Dew, Schweppes Ginger Ale (caffeine-free), Gatorade, Sobe, AMP, Bang, Rockstar, Starbucks Frappuccino, Life Water and Aquafina. Contractual requirements dictate the brands carried in these machines.
Snack machines
Canteen Vending offers snacks in campus snack machines. Candy, chips, gum, cookies, crackers, nuts, pastries, and microwaveable popcorn are sold out of glass-front snack merchandisers. The machines carry national brand merchandise and regional favorites. Contractual requirements dictate the brands carried in these machines.
Coffee machines
Currently, there are five coffee vending machines on campus: 2nd floor of the Denny building, Cone Center across from Main Street Market, lower level of Atkins Library, Woodward Hall and the Center City Building 5th Floor. Contractual requirements dictate the brands carried in these machines. These machines serve both standard and specialty coffee flavors. Smart Markets located in Storrs, EPIC and Martin Hall also provide coffee.
Office Coffee Service
UNC Charlotte contracts office coffee service to Canteen Vending. Please contact the Auxiliary Services office at 704-687-7352 if you are interested in this service.
UNC Charlotte's Beverage Rights and Vending Agreement
Smart Market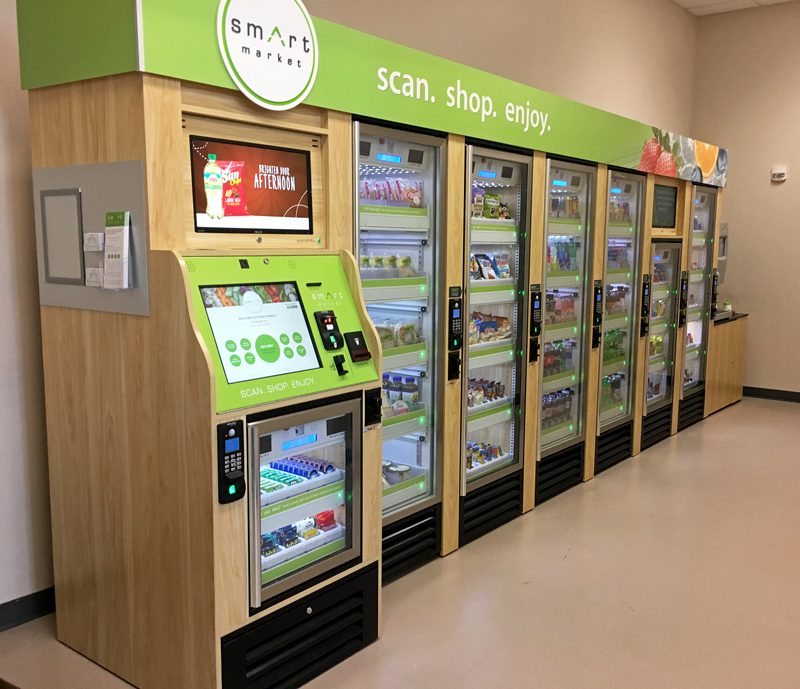 Stocked with fresh coffee, snacks, energy and soft drinks, grab-and-go meals, and sandwiches, Smart Market locations have opened in EPIC, Storrs, Robinsonand Martin Halls. Over 200 products are available, whenever the building is open.
Offers snacks, drinks and meals, including more nutritious options.
Multiple hot beverage brewing options
49er Account is available to use at Smart Market.
How it works
Use a credit, debit or campus card at the main kiosk or at any door.
As you make selections, the system tracks the items you pick up from one cooler to the next, displaying your shopping cart at each door. Adding items to the cart does not commit you to buy; there's plenty of time to browse and change your mind. The system only charges for items you take away.
Once you've finished shopping, visit the main kiosk to review your order, print a detailed receipt or simply walk away. Each transaction automatically closes out after 60 seconds.