Spring 2023 Dining News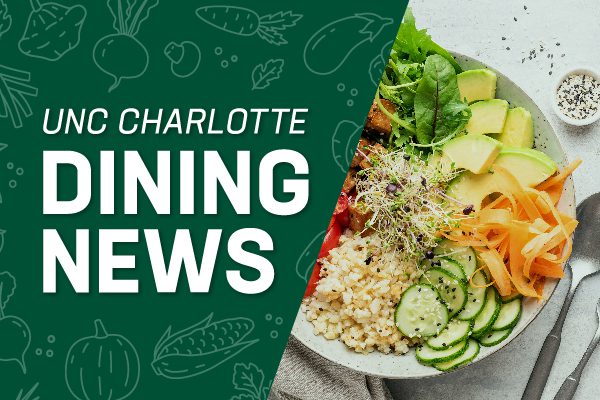 Look out for exciting changes coming to dining in Spring 2023!
Changes coming to Crown Commons April 1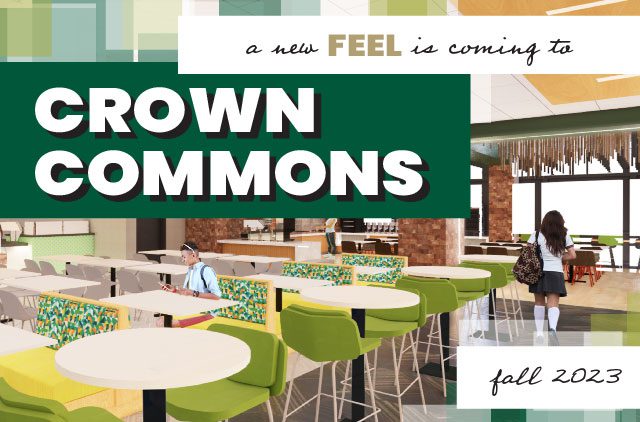 Crown Commons will undergo a major renovation beginning on April 1. The purpose of the renovation is to provide you with high-quality dining facilities, upgraded food stations and additional seating space to improve your campus dining experience.
Crown Commons will close after dinner on March 31, 2023, to allow for construction. However, you will still be able to use your meals, Declining Balance, credit/debit or spending accounts to enjoy all-you-care-to-eat dining in Upper Prospector.
Changes coming on April 1:
Upper Prospector dining, which is currently Salsarita's, Mamma Leone's, Sushi with Gusto and Bojangles Express, will convert to a Crown Commons-style, all-you-care-to-eat dining location starting on April 1.
Meals, Declining Balance, 49er Account, Optional Dining Account, credit and debit cards will be accepted at the doors to Upper Prospector.
All students, with and without a meal plan, are welcome to dine in the space with payment of a meal or the door rate.
Breakfast, lunch and dinner will be available at Upper Prospector and will continue to be available at SoVi dining hall. Charlotte Greens will continue to accept meals through the Niner Diners Mobile Ordering app.
Mid-level Prospector dining (Chick-fil-A, Burger 704 and Fresh2U) will operate normally. Always check Dine on Campus for the latest dining hours and events!